Duplicate Content Will Get Your Site Penalised
Another very common practice we see when analysing the websites of potential clients' is the use of duplicate content across many different websites, and it's much more common than you might think.
Google does not like duplicate content. They want original, quality, authoritative content. However if your website happens to be one of the ones that suffer from duplicate content , then there is a real concern that Google may penalise your website. If this is the case then your website is almost certainly under-performing in terms of rankings, which in turn will affect the number of new patients driven from your online efforts.
How to find out if you have duplicate content
The easiest way to check whether or not your website has duplicate content is to select a sentence from one of your posts or pages and copy it into the Google search box, perform a search and see what comes up. Please note that the best way to find out is to put in in inverted commas, for example "This is an example of text I want to check to see if it is duplicate".  
As an example, we visited a random dental website and did a search on the following sentence from their dental implants page :  "A post is planted in the jaw bone to support a replacement tooth" .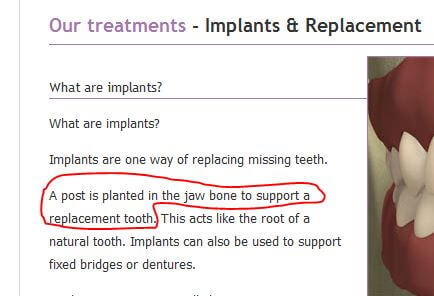 As you can see from the screenshot below there are many other websites with the  same content – we stopped counting at 60  websites with identical content – only one of all these sites can rank first for that particular content – Google just sees duplicate content and at best ignores it, at worst, the sites may be penalised and disappear from the search results entirely.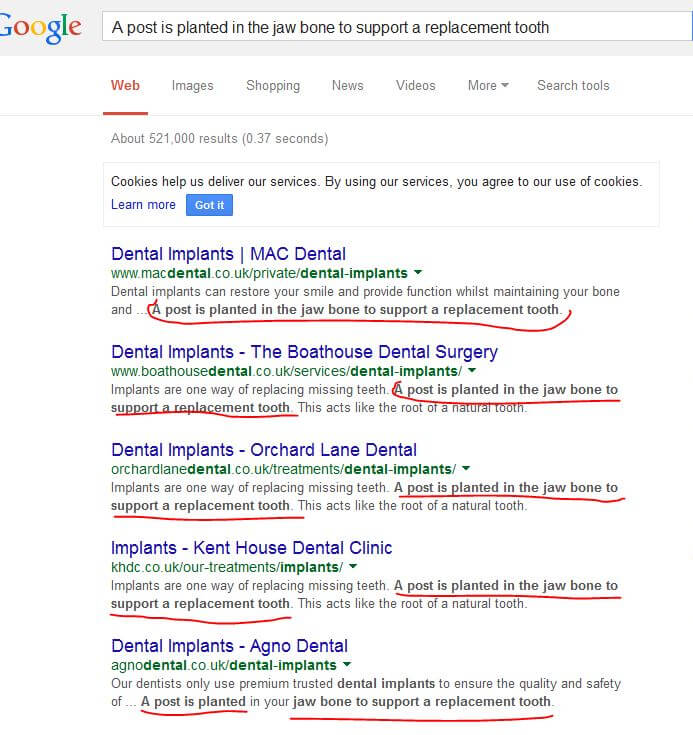 Please don't get caught out in your dental marketing efforts because of duplicate content. If you are using a dental design agency to provide you with a website and SEO, you need to be aware that some of these agencies are using dubious, lazy and downright shoddy content .  Check your website today, and if you think you have a problem then please contact us –0141 363 0250  –  We do things the right way !
Comments
comments