Successful Dental Marketing
If you're looking to grow your dental business, increase your client base and ultimately your profit, you need a coherent marketing strategy in place.
Creating a plan isn't difficult.
All the various channels work in the right situation.
Integrated together, the right mix of channels will always have a positive impact on your bottom line.
"An integrated strategy is key to a practice's success"P. McCamley. Managing Director
Understanding the ROI for dental marketing
A proper plan begins with deciding which channels to focus on.
You need to understand which marketing channels are a fit for your business.
You need to know which of these channels offer the biggest return on investment.
With over 25 years collective experience of devising marketing strategies for some of the UK's biggest brands, we are on hand to help you devise the best strategy for your situation.
Once we understand your objectives and budget we can advise you on which channels to consider.
Industry standards suggest a reasonable budget to be around 5% to 8% of turnover, so you should be allocating your practice marketing budget somewhere along those lines.
If you hire a specialist expert like Deseo, you will get a positive return on investment. We have clients who have seen return on investments as high as 1400%. These are real clients who will be happy to speak to you about their experience with us.
You could choose to do your own marketing of course – there are any number of useful marketing resources out there which provide excellent free information – Moz.com and Backlinko being two renowned sites. The problem of course, is finding the time to take it all in, decide what's right for your business, and then constantly monitor and measure the effectiveness of your marketing effort against a backdrop of an ever changing marketing landscape. So you pay your money and take your chance – good luck if that's your choice !
Search Engine Optimisation

Getting to the top of Google with SEO so you are not paying ever increasing Adwords is an important dental marketing strategy.

Adwords

Love it or loathe it, Google Adwords work. However it can't be your only weapon in your dental strategy.

Local search for dentists

If you get confused between the Google '3 pack' and a 6 pack then you are losing lots of dental patients. Period!
Social Media for dentists

Social media is an integral part of all dental marketing strategies. Not an adhoc Facebook post.

Remarketing

Ever wondered why banner ads for brands follow you online once your have been on a site? Well that's remarketing.

Blogging

Your opinions matter and not just on your own site. Hire professionals to get your opinions on relevant sites.
Here at Deseo, our first focus is unashamedly on search engine optimisation as a strategy. Simply put, we believe SEO provides the greatest return on investment of all the available channels and needs to be part of your fundamental strategy.
For the sake of clarity, SEO is the art and science of driving targeted visitors to your website. The beauty of this is, these visitors are already searching for specific dental treatments, so you get laser targeted visitors to your website. They are therefore much more likely to convert into clients if they land on your website and you have a solution to their problem.
The short video above has a section with one of our clients explaining how Deseo have helped them to expand their dental practice, and it is followed by a case study on the dental implants part of their business.
In the UK, local search for dentists has become an area of real importance following an update in Google's algorithm. To explain the relevance of this change in the way Google displays search results, you need to understand the difference between organic search results and local results.
If you look at the image below you will see the search results for the search term "Cosmetic dentist Glasgow" – Our client, Dr Gardee of Glasgow Smile Clinic is ranking number 3. You will see that the first seven results all display a small balloon with address and telephone details next to each result. These results are termed the "local pack" and are now displayed prominently before the first organic search result, which is now eighth on the page.
PS – Dental FX is number one and our client too!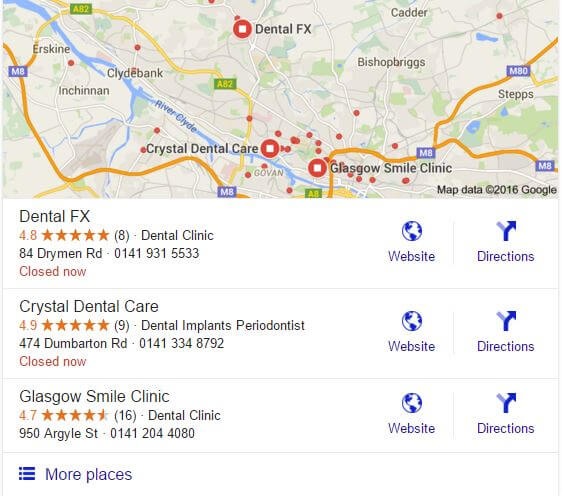 Blogger outreach & dental marketing
Blogger outreach allows your dental practice to tap into influencers' reach and get tp the right niche of people talking about your dental practice's services, which ultimately impacts trust and consumer purchasing behaviour. It's naive to think that people won't research what others think or say about their cosmetic dental procedure experience in your city. In fact a Technorati report states that 31% of online shoppers are influenced by blogs whereas 56% are influenced by the sites themselves, so it is a big deal.
So how do you go about integrating blogger outreach into your dental marketing strategy?
There are two methods; earned and paid.
Earned media is free coverage gained by reaching out to these influencers and providing them with great content. Paid media is purchased coverage. When applied to blogger outreach, it can take the form of brand ambassadors, paid-for sponsored posts, etc. Choosing an earned or paid blogger strategy really depends on the objectives of your marketing strategy which Deseo can advise you on. The reason for this is that there are pros and cons to both approaches especially regarding SEO.
The impact of Social Media
Social media needs to be part of your marketing plan. Most people use social for personal reasons but if you are not using it properly for your dental practice then you are missing an important channel. The role of social media is fundamental for a number of objectives. Social will help drive traffic to your website. Check your Google Analytics to see what percentage of traffic is currently coming from Facebook, Social and Twitter. If this is less than 15% then you have a job to do.
Social signals are also important to help your SEO strategy as Google counts 'social signals' as one of its ranking factors. The most important aspect of social in your marketing strategy is its ability to foster engagement and build your brand. Not only does social allow people to engage with your brand freely and quickly but also can position your brand as the dental authority for specific treatments. So when people are researching which dentist to use, your practice is part of positive conversations online, thereby helping them choose your practice.
Remarketing to keep your brand visible
Remarketing is a clever marketing channel that helps your dental practice stay visible if someone does not immediately make an enquiry. It is a means of keeping targeted ads in front of potential patients once they have left your site. So if someone was on a dental implants page and left without contacting you we could target implant adverts as they continue their journey online, perhaps with an offer for a free consultation. The importance of remarketing in your marketing strategy should be focused and relevant to each visitor's journey
Google AdWords' role in your targeted plan is twofold; drive cost effective new patients for specific treatments while providing your SEO agency with the insights on which keyword terms to optimise your website for. The reason for the latter is that you don't want to be continually paying higher and higher AdWords costs. Rather a prudent strategy looks to use AdWords as a test and refine channel for SEO.