Google Mobile-Friendly Algorithm Update Announcement
Google have announced a big shift to the way they manage search results across mobile devices with a significant update to their mobile algorithm scheduled for 21st April 2015.
Starting April 21, we will be expanding our use of mobile-friendliness as a ranking signal. This change will affect mobile searches in all languages worldwide and will have a significant impact in our search results. Consequently, users will find it easier to get relevant, high quality search results that are optimized for their devices.
Mobile has drastically changed how we consume online content in recent years. The majority of switched-on marketers have observed this trend and incorporated mobile into their overall strategy. For most, that meant at the very least either offering a mobile version of their site or a fully responsive site that adapts to meet the needs of the user based on their device.
The forthcoming update is Google's next step in trying to improve mobile usability across the web. This makes a lot of sense – Google wants to serve users with the best experience when searching for sites and they can do this by rewarding sites who consider the needs of the user, in this case mobile users.
What Do We Know?
The impact on search results of this update is likely to be significant. According to one Google employee, the impact is likely to be even higher than both their Google Panda and Google Penguin algorithm updates , both of which had a significant impact on the way Google ranked some sites.
The fact that Google have pre-warned webmasters about this upcoming algorithm update emphasises just how much of an effect this could have on a site's performance across mobile search. Considering the fact that Google believe around 50% of all searches are on mobile devices, you want to be doing everything you can to make sure you are well placed for the April update.
Google have stated that the new ranking factors will run in real-time and work on a page-by-page basis . This means any updates made to improve the mobile usability of a site will be recognised by Google after the next time a ranking page is crawled – and graded accordingly as either mobile friendly, or not mobile friendly.
The algorithm being applied on a page-by-page basis also means that only pages deemed to be mobile-friendly will see the benefits.
How to Tell If Your Site Is Mobile-friendly
There are 3 ways to identify if your site is mobile-friendly. Google Webmaster Tools has been updated to include a Mobile Usability report (found under the Search Traffic reports) which highlights and recommends fixes for mobile usability issues.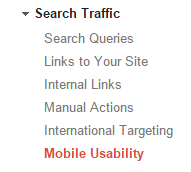 Google also have a mobile-friendly test for those who don't use Google Webmaster Tools, which can provide similar levels of insights.
Another way to identify whether a page is mobile-friendly is to perform a check in mobile search results. A "mobile-friendly" label, like the example shown below, will appear next to a site if it meets the following criteria:
Avoids software that is not common on mobile devices, like Flash
Uses text that is readable without zooming
Sizes content to the screen so users don't have to scroll horizontally or zoom
Places links far enough apart so that the correct one can be easily tapped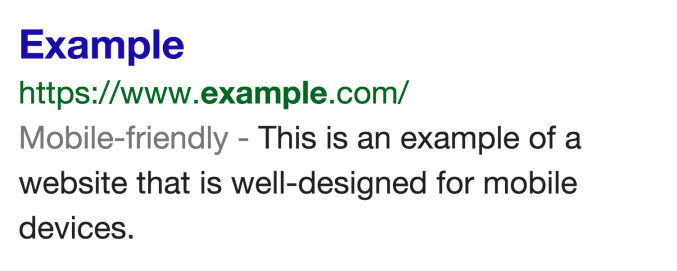 Similar to the mobile algorithm update which will be on a page-by-page basis, the "mobile-friendly" label is also displayed on a page-by-page basis. This means that if you perform a search for your site and a "mobile-friendly" label is displayed, this indicates that the individual page being returned is mobile-friendly and does not represent the site as a whole.
How Not Being Mobile-friendly May Affect Your Site
We anticipate that sites that lack the "mobile-friendly" tag will see:
Potential positional loss in search – particularly for non-branded keywords
Potential traffic loss from mobile search
The extent of potential positional drops will vary by vertical and based on how mobile-friendly the search landscapes are in which a site operates – i.e. the more sites that are mobile-friendly in a space, the further sites which aren't mobile-friendly are likely to be pushed down in results.
What Can You Do to Prepare?
As well as using the features found in Google Webmaster Tools and the mobile-friendly test tool, Google have recently published advice on avoiding common pitfalls for improving mobile usability . Google highlighted the biggest issues they see when it comes to optimising for mobile:
Blocked JavaScript, CSS and image files
Unplayable content
Faulty redirects
Mobile-only 404 errors
App down interstitials
Irrelevant cross-links
Slow mobile pages
The guide goes into more detail about each point and provides recommendations on how to fix these issues to improve mobile usability. This is a good starting point alongside the testing tools if you want to start taking the necessary steps to prepare for the 21st of April.
Next Steps
We would advise getting in contact with Deseo  if you have any concerns or would like to talk about it a little more. What this means in the long term is that mobile needs to be part of every dentist's digital marketing strategy.
Comments
comments