One of our more recent clients, www.msgdental.co.uk came onboard with us in July 2015.  It was a familiar story for us at Deseo Marketing – practice principle Chris Burton had previously had a poor experience with SEO and was looking for someone to help give the practice the push it needed to really start driving new clients through his doors.
Here we are 6 months later and MSG have improved somewhat 🙂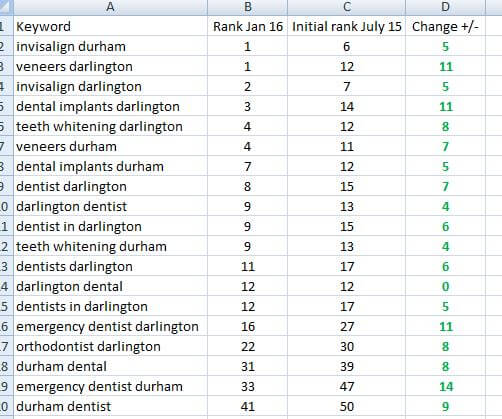 There is no secret sauce or witchcraft involved in improving your website rankings. Here at Deseo, we spend a lot of time keeping up to date with what's working, testing what's working and applying these techniques accordingly.
If you want to see your website ranking on page 1 for your chosen search terms, why not give us a call – 020 3004 9494 
We don't talk mumbo-jumbo, we talk your language. Give us 30 minutes of your time and we can show you what we do live, via a screenshare chat. It may be the best 30 minute time investment you ever make.
Or you could call Chris or his practice manager Janine at MSG Dental and have a chat with them !
Comments
comments